Concurrent Design– Background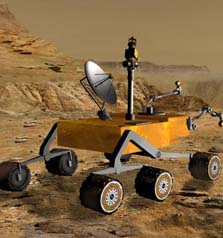 Developing rovers for Mars is by any stretch of the imagination a very complex and challenging task. NASA and Jet Propulsion Laboratory (JPL) realized this and also realized that the traditional way of working with meetings and following office work would not cut it. They had to look for new ways of working together. The answer: Highly integrated and permanent design teams working in focused sessions in dedicated work arenas.
In parallel, Dr. Knut I. Oxnevad was conducting research funded by NASA Langley developing a radically new approach to the design of spacecraft. He became one of the first to coin the term Concurrent Design.
In 1996 he joined JPL and there worked with some of the finest scientists and engineers to refine and implement the Concurrent Design method. As part of this, he set up permanent teams utilizing the method.
During his time at JPL he generalized the method and in 2000 published the groundbreaking "Eight Principles of Concurrent Design."
His highly trained teams supported studies ranging from sub-sea probes, optical telescopes, to the next generation rovers for Mars.
These studies were characterized by innovative solutions and dramatic improvements in efficiency (factors of 4) and quality/understanding of the design early on (factors of 10).
Similar results have been demonstrated for projects in the off shore oil and gas sector. Early pilot projects in the areas of well planning, modifications, and early field developments are already showing 20-30%+ improvements in efficiency and quality. One project showed a drop in e-mail estimated to be at 50%.